The History of Takahata-san Myō-ō-in Kongōji Temple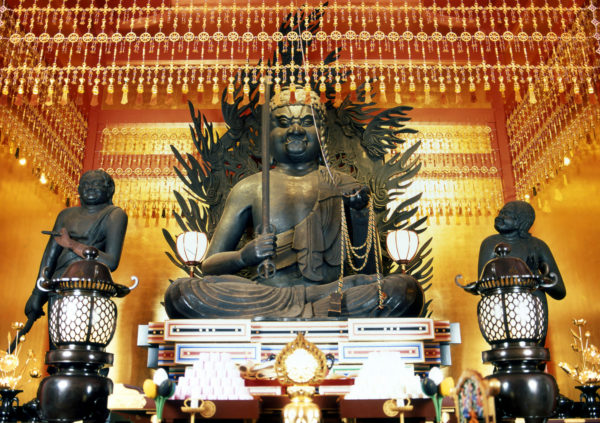 As the special head temple of the Chisan-ha sect of Shingon Buddhism, Takahata-san Myō-ō-in Kongōji Temple has been one of the Kantou region's three biggest Fudō temple since ancient times, and loved as Takahata-Fudoson.
According to ancient documents, its history began before the start of the Taihō Era (year 701), but 1,100 years ago, around the year 794, Jigaku Daishi Ennin was ordered by Emperor Seiwa to build it in the middle of the mountains as a sacred ground of the eastern barrier. It started with the enshrinement of Fudō-Myō-ō.
Afterwards, during the night of August 4, 1335, the edifice in the middle of the mountains was destroyed by a storm. Gikai Shōnin I, chief priest of that time, moved it in 1342 and built the current Fudō-dō Hall, which is an ancient cultural property, a rare sight in the Kantou region.
Then, the next structure to be constructed was the Niōmon Gate, another designed Important Cultural Property.
During the Ashikaga period (1333-1573 CE), Takahata-Fudoson was called the "Asekaki Fudō (Sweating Fudō)", and gained the respect of the Kamakura Shogunate and Sengoku military commanders. During the Edo period, it was counted as the Kantou region's eleventh Danrin temple, and gathered the faith of the masses as the Fudoson of fire protection.
At that time, it counted thirty six structures and was one of the biggest temple of the Kantou region. But in the large fire of 1779, the Daini-dō Hall, the Daishi-dō Hall, the Sanmon Gate, the reception hall, the priests' temple quarters, etc, were all lost at once.
After that, thanks to the unceasing effort of the successive chief priests, it was reconstructed little by little, and after 1975, they were able to show the Five-storied Pagoda, the Dainichi-dō Hall, the Hōrin Kaku, the Okuden, the Daishi-dō Hall, the Seiten-dō Hall, etc, constructed in a way that could even surpass that of old times.
The repairing of the gigantic statue weighing over 1,100kg, said to be Japan's most important Jōroku Fudōsanson national treasure, was completed and enshrined in the current Okuden Hall.