About Takahata-Fudoson and Hijikata Toshizō
Hijikata Toshizō
At Takahata-san Kongoji, the family temple of Shinsengumi member Hijikata Toshizō, there are stone monuments for both him and Kondō Isami, and a bronze statue of Hijikata. His mortuary tablet, as well as Shinsengumi's are kept at Dainichi-dō Hall. His notes along with many other documents related to the Shinsengumi are being displayed at the Okuden hall.
Following his learning, he used to sell his family's Ishida medicine while practicing the Tennen Rishin-ryū style of kenjutsu at his brother-in-law Satō Hikogorō's dojo.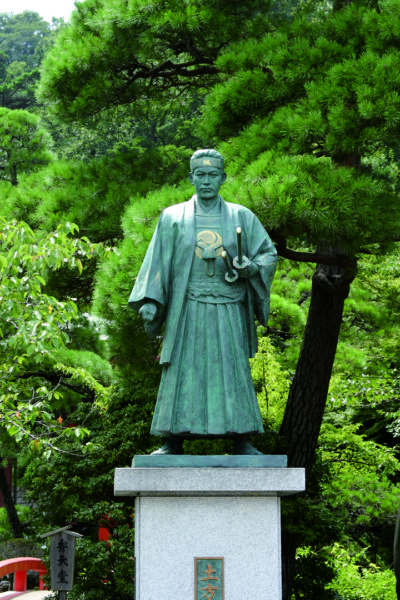 Timeline
1834
 

1835
 
1844
 
1858
 
1859
 
Hijikata Toshizō joins the Tennen Rishin-ryū school.
1861
 
Kondō Isami becomes the fourth head of Tennen Rishin-ryū.
1863
2/8
The group of ronins leave Edo (old name of Tokyo), to go to Kyoto through the mountains.
2/23
They arrive in Kyoto.
3/12
Kondō and Hijikata stay in Kyoto under the supervision of the Shugoshoku.
8/18
They dispatch the old imperial palace's defense, officially take control of Kyoto and become known as the Shinsengumi.
1864
6/5
7/19
Battle of Hamaguri Gomon.
7/20
Battle of Yamazaki Tennouzan.
8/2
The first order of Choshu.
9/
Kondō heads to Edo to look for recruits.
1865
4/
Their base is moved to Nishi Hongan-ji Temple.
11/4
Kondō goes to Hiroshima.
1866
9/12
Sanjō Kōsatsu Incident.
1867
3/
Itō Kashitarō leaves the Shinsengumi.
9/
Hijikata Toshizō leaves for Edo to look for recruits.
10/14
Restoration of Imperial rule.
11/18
Aburanokōji Incident.
12/7
Tenma-ya Incident
12/9
Declaration of the restoration of Imperial rule.
12/16
They take defence at the Fushimi magistrate's office.
12/18
Kondō Isami encounters difficulties at Sumizome.
1868
1/3
A battle starts at Toba-Fushimi.
1/4
Inoue Genzaburō dies in battle.
1/12
1/15
The warship arrives in Shinagawa.
3/1
As the Kōyō Chinbutai, the Shinsengumi leaves Edo for Kōfu.
3/3
3/6
Battle of Katsunuma.
4/3
4/23
4/25
Kondō Isami is executed in Itabashi.
5/30
Okita Sōji dies of illness in Sendagaya.
8/21
Battle of Bonari Pass in Aizu.
8/
Hijikata heads to Sendai.
10/12
He leaves Sendai by boat.
10/20
He lands in Washinoki, Hokkaido.
10/26
He enters the Goryōkaku fortress.
1869
4/9
The government army lands.
4/12
Battle of Futamata.
4/29
Return to Goryōkaku.
5/6
5/11
5/18
Capitulation of the Goryōkaku fortress.